Over the first half of the year, Stairway's farm team harvested more than a ton of vegetables, fruits and organic vermicast. The abundant harvest went mostly to supply the Baclayan Elementary School feeding program that serves an average of 160 pupils daily. The remaining high value crops, vegetables and fruits went to the Stairway Center. This year, Stairway offered some of the farm's surplus harvests to Puerto Galera resorts, restaurants and residents through social media. Many resorts and individuals responded to the Facebook posts and ordered produce.  Others tried a pick-and-pay visit to the farm and were delightfully surprised to discover a "secret garden" within the mountain community of Baclayan.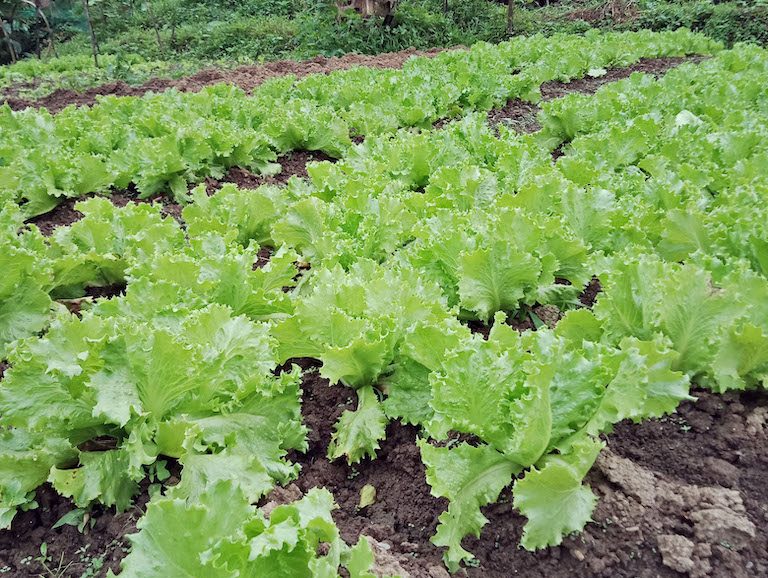 The farm team's exposure and visit to an established organic farm school in the South ofMindoro last December inspired the team to carry out enhancements and add more elements to the farm, like:
• Re-plotting of the Greenhouses, from 2 plots to 3 plots inside to maximize the space.
• Installation of more water sprinklers as a preparation for summer.
• Installation of fences for the area where the horses and carabao can feed on grass and stay safe. This was also done for the area where the native hogs stay.
• Clearing and planting of indigenous rice varieties in a slope.
• Revival of the fish pond area to raise tilapia and other fresh water fish.
• Clearing and preparation of the area for herbal and medicinal plants.
• Maintenance of organic supplements and fertilizers.
• Installation of additional solar panels and batteries to be utilized for camp activities
and for storage facilities of vegetables/crops.
Opening the farm to students from Baclayan Elementary School is a fun and exciting experience.  Students undergo an introductory session, including a tour around the farm, before they put into practice what they learned at a portion of Stairway's land near the school. Here the children can grow and maintain their own vegetable garden usually with a bit of assistance from parents and teachers.
Other cause-oriented groups, like the EcoTone foundation based in Abra De Ilog, Occidental Mindoro and Reaching Hands Foundation in the Province of Rizal, have visited the farm to gain inspiration, learn about organic farming and explore the possibility of creating similar organic farm projects in their areas.
Contributed by Jason Arbarquez, Baclayan Project Manager, SFI