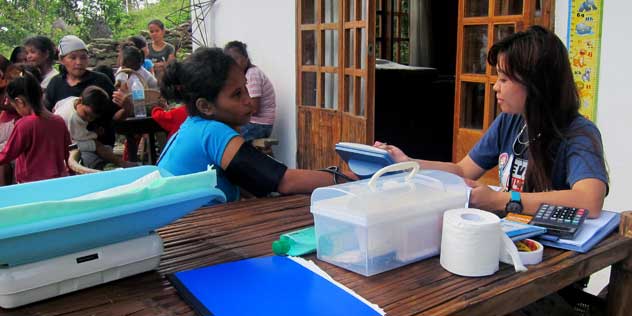 To augument the health benefits that our Feeding Program provides to the school children and address the medical needs of the whole community, we launched a regular bi-monthly medical check-up and medical mission in 2014. This is conducted together with a hygiene campaign to address health and medical issues lingering in the community.
A local doctor volunteers his services to facilitate the regular medical checkups. Initially, a room at Stairway's Farm House at the Baclayan Organic Farm served as a provisional clinic, but in June 2017 Stairway completed the construction of the Children Health and Education Center (CHEC) containing a clinic, library and a roofed veranda suitable for holding classes and workshops. The clinic stores an ample supply of common medicines and multivitamins, and it is equipped with some basic facilities like a nebulizer, weighing scales, and equipment to check the vital signs like blood pressure, heartbeat and breathing. The doctor is assisted by one of our community workers, who is a nurse by profession, along with a local health worker from the village.
The clinic opens its doors in the morning for adult and non-school patients, while children in school are allocated the afternoon session. Some of the common sicknesses diagnosed are cough, colds, headache, muscle pain, gastric pain, body malaise, dizziness and skin rashes. Cases of asthma are
treated with nebulizer and oxygen, while those with potential
tuberculosis are sent to the government health center down in town for a
proper assessment, and to benefit from a subsidized treatment and medication
program.
Pregnant mothers also frequent the clinic to avail of supplements and vitamins, and in 2018 pre-natal check-ups were added to our regular medical consultations, thanks to the help of a volunteer midwife. It is common practice that mothers in the village do not go to regular checkups during pregnancy and give birth in their homes.
Regular once-a-month dental care education and delousing activities are also carried out in school every second and fourth Monday of the month, when there is no doctor in the clinic.
In the last four months of 2018, 259 patients were served by the clinic, many of whom were suffering conditions relating to poor sanitary conditions. Plans are now underway to construct a latrine block in Baclayan, following the recommendation of the resident volunteer doctor.