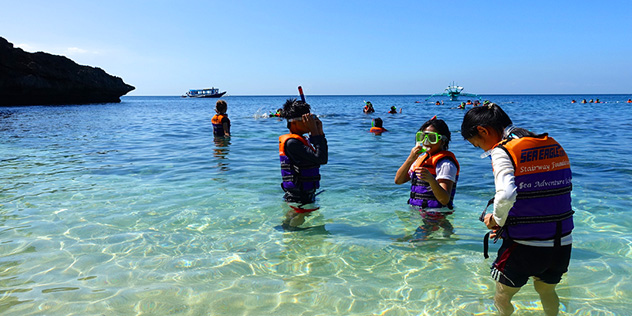 Environmental Awareness for Children and Youth
Conceptualized back in 2012, the EACY Program aims to inspire and educate the local population of school children to better appreciate and protect the beautiful and vulnerable environment they live in. We hope to help develop a generation of children and youth with new values and sincere appreciation for nature, who will demonstrate an active concern for environmental conservation.
The program activities take place at several different levels and locations:
The Stairway Theatre, where students watch the theatre rendition of Dr. Seuss' "The Lorax", followed by a discussion on the message of the play and the relevance of this message in a local as well as a global context.
The Sea Adventure School (SAS), which is a floating classroom that immerses students into marine environments in order to educate and inspire them beyond what is possible in a traditional classroom.
Stairway Organic Farm, which is a venue for especially many indigenous children and youth to visit to learn about sustainable farming methods.
The EACY Clubs, where approximately 400 young people meet in their own local barrios to discuss issues pertaining to their own immediate environment. With support from Stairway, they implement projects and run activities to create awareness and to clean their localities.
EACY Background
Any person with a concern for the well-being of future generations should be utterly alarmed by the findings concerning the state of our planet released by scientist around the world over the past many years. It is beyond any doubt that the long term habitability of planet Earth for people and animals alike has become an issue of grave concern. Thousands of species of animals, along with many less fortunate people, have already felt the detrimental effects of changing weather patterns. Climate change is beyond any doubt largely caused by human activity, if we will trust an overwhelming majority of independent scientists, who have researched the issue for decades. A logical conclusion to this would be that our hope lies in changed human behavior.
For decades now, leaders from around the world have gathered for large international conferences to discuss and to find ways to transition our development into one that would be sustainable for us and generations to come. Sadly, a lot more empty rhetoric than action has come from these UN conventions that have manifested anything but a world united to responsibly face the challenges.
As "Business as Usual" seems to be the extent of what today's world leaders can come up with, it becomes obvious that climate crisis and environmental degradation are issues to be handed down to our next generations, as unfair as it is!
Stairway's mission is to protect and promote children's rights in accordance with the United Nations Convention on the Rights of the Child. One of the rights in this most widely ever ratified international agreement states Children's Right to a Safe Environment.
All of Stairway's earlier programs were created in response to massive neglect of children's rights to be protected from all forms of abuse here and now. EACY is addressing the right for future generations to inherit a habitable planet. Our motivation to engage into EACY is evidence-based. The poorest of the people in the least developed nations around the world bear the brunt of the negative impact of climate change. Natural disasters, of which the Philippines gets more than its fair share, have become a major contributor to putting more children at risk. Extreme poverty is recognized as a major cause of violations of children's rights, and natural disasters are pushing even more people into abject poverty. Thus, addressing environmental destruction and climate change is addressing one cause of a root cause to a lot of the child abuse issues we are confronted with today.
As small and insignificant it may seem in the larger picture, EACY creates awareness and plants seeds of active concern and critical thinking amongst children and youth. This, we believe, is a necessary ingredient in the recipe for their generation to abandon the idea of "Business as Usual" and work towards a more harmonious relationship between mankind and nature.