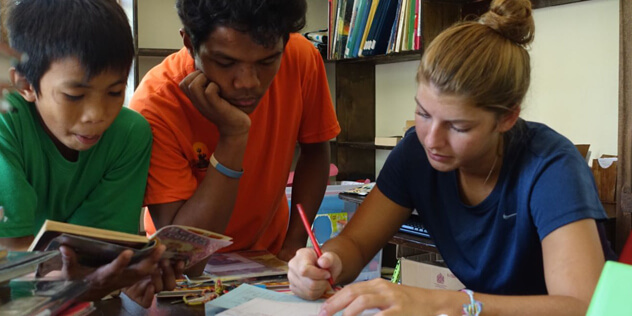 The SFI Volunteer Program invites persons from abroad and from the local community to help support the following 3 SFI program components:
Family Home Program for Street Children – Each year, SFI brings fourteen to fifteen boys (10-14 years of age) into our program. For 1 year, the boys are engaged in alternative education, life skills training and livelihood skills training.
Community Assistance Program – This program aims to help a large number of local families out of abject poverty by offering scholarships and financial assistance so that the children are able to attend school. The program puts particular focus on the indigenous population in an attempt to mitigate if not eliminate the discrimination they suffer.
BTS, Advocacy and Training Program – SFI's Advocacy Program focuses on children's rights, with a specific focus on the prevention of child sexual abuse and exploitation. Our Advocacy Team is continuously working on expanding SFI's campaign to increase local and international awareness of the rights of children.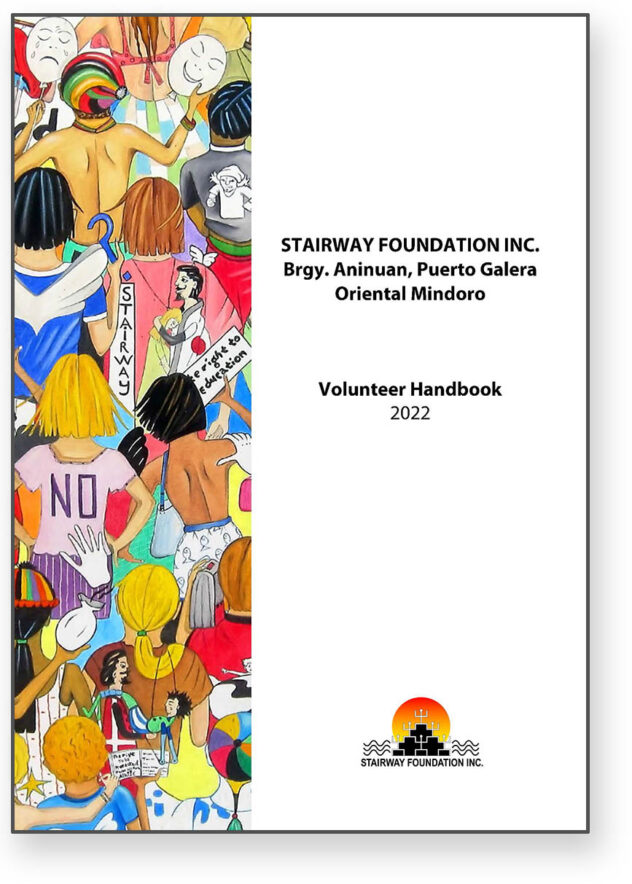 Currently, we have 2 possible locations for our volunteer assignments: on-site at Stairway Foundation or nearby at Baclayan, which is a small indigenous Mangyan community. Both locations are in the municipality of Puerto Galera, Oriental Mindoro.
On-site at Stairway Foundation, volunteers stay in a cabin or dorm style room, have meals cooked for them, and have access to down time at the nearby white-sand beach. Snorkeling, scuba-diving, and hiking are common activities within the local area.
Baclayan is located in a mountainous setting with a breath-taking view of the valley and sea below. Volunteers live in a dormitory style camp house or in small cottages, all located near our organic farm. Volunteering in Baclayan is for the adventurous at heart. Baclayan volunteers will have the opportunity to stay on-site at Stairway for relaxing days on the beach during scheduled days off.
Volunteer Program Costs:
To cover costs associated with food and accommodations and to help support the programs, volunteers are charged 15 to 20 Euros per day (or equivalent in USD or PHP), depending on skills and length of stay. Volunteers will make an agreement on the amount of payment with the Stairway Office Administrator prior to their assignment.
Minimum Requirements:
You must be hard working and flexible. Your assignment can change, depending on our needs.
You must be able to work independently and without supervision.
You must be able to adhere to the policies of the organization, including the behavioral policies designed to protect the children that reside at Stairway.
You must be culturally sensitive.
Volunteers that are invited to help with our Family Home Program are required to stay for a minimum of 6 months. The duration of stay in Baclayan is flexible.
Current Volunteer Assignments:
At Stairway – Family Home Program:
English and math tutors  (6 month minimum)

Provide additional classroom support for SFI residential children and tutoring for community scholars

Music Teacher (skilled assignment)

Help to design a curriculum around teaching the basic principles of music
Co-teach music class twice a week
At Stairway – General:
Nutritionist (skilled assignment)

Teach workshops on nutrition for the staff and children
Work with kitchen staff to develop a variety of nutritious daily menus

Skilled construction workers; carpenter, electrician, plumber, mason, etc.
Skilled writer (English) and researcher
At Baclayan:
Organic agriculturist / horticulturist (skilled assignment)

Provide hands-on training on organic farming practices

Organic farm workers

Help build fences, clear land, landscaping, plant and maintain tree seedlings and vegetables, feeding of livestock

Construction workers

Help in all construction work on the site

Architect (skilled assignment)

Help design a master plan for the entire area

Community Development

Help develop elementary school learning environment
Develop livelihood programs (craft development, marketing, etc.)
Teach life skills (general and reproductive health, nutrition, maternal health, literacy, leadership development, etc.)
Most volunteers in Baclayan will be doing a little of all the listed assignments, including working and playing with the indigenous children.  Everybody will participate in shopping, cooking and baking in the camp house.
For more details about volunteering at Stairway Foundation, please contact us at: volunteer@stairwayfoundation.org
Please read the Volunteer Handbook:
To apply for a volunteer assignment, complete the SFI Volunteer Application Form