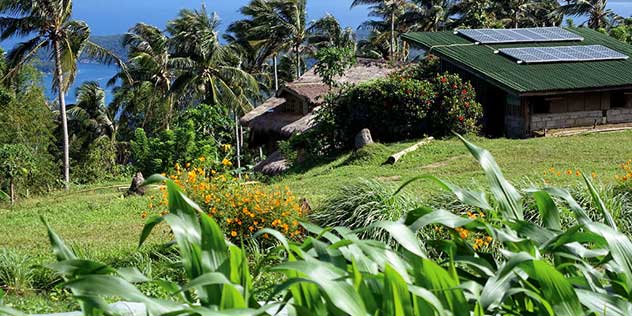 The rationale behind the organic farm is to help with the issue of food security for the local community as a whole, and to supply Stairway's Family Home Program and the Baclayan School Feeding Program with fresh organically grown vegetables. Along the way, we are hoping to develop methodologies and identify suitable crops that would help to make agriculture an attractive option as a career choice for the many young people in the community.
Farming on the the Baclayan mountain, with its steep slopes and an elevation of nearly 500 meters above sea level, presents a number of challenges. There are several conditions to contend with, including the rough, steep terrain, the depletion of top soil, the strong winds coming with the monsoon season and the many typhoons passing through the Philippine Archipelago. Yet despite this, the farm continues to grow both as a sustainable food source for the community and as a provider of vocational training.
Benefiting from the recruitment of an experienced farmer in 2018, farm output has significantly increased and surplus is now being offered to local resorts and businesses through social media, the significant interest for which has indicated a potential revenue source that will help to further sustain farm operations into the future.
As the farmhouse is the gathering space for 25-40 scholars every weekend and during school breaks, organic farming is an integrated part of their extracurricular education. Students of Baclayan school also receive introductory classes at the farm and maintain their own vegetable plots on a portion of Stairway land near the school. We hope that we eventually will be able to inspire and capacitate the young people and their families to grow their own organic kitchen garden, anticipating an outcome of increased nutrition and wellness within each family unit.