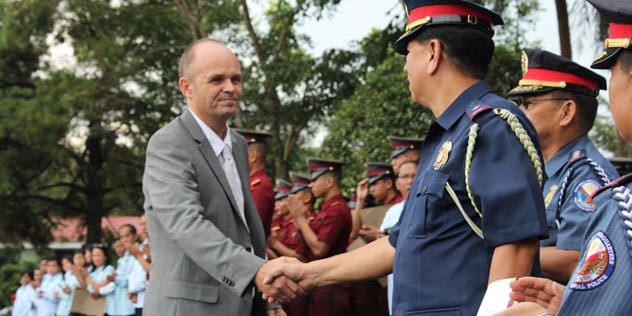 Stairway Foundation's Collaboration with government partners, PNP, DSWD and DepEd
Stairway's collaboration with the Philippine National Police, DSWD and DepEd at the national level has been most beneficial in the development of local Break the Silence Networks referral systems in relation to child sexual abuse cases.
Philippine National Police
In the Philippines, it is law enforcement that carries the mandate to respond to cases of child sexual abuse and exploitation, which is the reason why Stairway began to initiate and cultivate a strong partnership with them. We have experienced that while many police officers have the necessary knowledge to handle cases of child sexual abuse, many seem to lack the understanding of how severely this crime affects child victims. It is not uncommon that sexually abused children are further traumatized during the process of reporting at police stations. There is an evident need to affect change in attitude towards children in general and towards child sexual abuse in particular within the police force. To respect and to treat children as human beings with rights, we need police officers who are technically equipped to handle cases involving minors, and even more so, they need to be truly empathetic towards children and their special needs. Because the intent of our collaboration with law enforcers is aimed more at effecting a change of attitude than simply the passing of knowledge, Stairway's advocacy and training program with law enforcement is anchored in creative expressions.
The Training
The training of officers and cadets consists of one full day of discussions and exercises and covers a wide range of topics having to do with children's rights and child sexual abuse prevention. The sessions are designed to be engaging, interactive and thought provoking for the participants. Topics in the sessions include the following:
Gender and sexuality
Children's rights
The dynamics of child sexual abuse
The child sex offender
The victim
As law enforcers, how to respond to victims
Technology related crimes against children
History of Collaboration with the Philippine Law Enforcement
Stairway initiated collaborations with Philippine Law Enforcement at different levels within the sector back in 2005. Our first memorandum of agreement was signed with the National Capital Region Police Office (NCRPO) in 2007, after having conducted several trainings with them in 2006. Through recommendations within the ranks of the directors of the various training schools, the demand for training steadily increased, resulting in Stairway now delivering sessions in all 17 training schools across the country with 3500 new recruits trained in 2018. Capacity building is carried out both within the Women and Children Protection Desks (focused more on investigating cases) and increasingly, the Police Community Relation Units which carry out community advocacy activities instrumental in helping to prevent children becoming victims of abuse.
Department of Social Welfare and Development
In 2012 Stairway formalized a partnership with DSWD on strengthening and expanding the advocacy on children's rights and child sexual abuse prevention among the approximately 4 million households that are beneficiaries of the Department's Poverty Alleviation Program, locally called the Pantawid Pamilyang Pilipino Program.
Stairway and DSWD Pantawid have developed CSAEP modules that are used in the context of Family Development Sessions (FDS) and form part of the library of materials on Child Protection for Pantawid's FDS Manual. By 2015, more than 500 Pantawid staff from all regions in the country had been trained by Stairway on how to conduct CSAP advocacy sessions at the community level within the Family Development Sessions. In 2018, 76,643 partner beneficiaries were reached by the CSAEP sessions and the resolution to integrate CSAP in the Pantawid Program Institutional Arrangements by the Pantawid NCR Regional Advisory Council was approved. The CSAP module on children and youth is also envisioned to form part of the materials for the program's Youth Development Sessions (YDS).
Our CSAEP advocacy within Pantawid has made Pantawid implementers more conscious in strengthening response mechanisms for abuse cases, resulting in the Pantawid Gender and Development (GAD) Unit conducting a series of sessions that include reporting and managing of abuse cases. Work is now underway to develop a Child Protection Policy (CPP) organic to the program.
Department of Education
In 2015, Stairway Foundation entered into a formal agreement with the Department of Education to develop CyberSafe lessons plans to be used by teachers to integrate online safety in schools nationwide. The CyberSafe program, launched in 2016, is a web based portal for Online Safety, the first of its kind in the Philippines, which hosts online child protection materials developed by Stairway and the DepEd. To disseminate the materials as widely as possible within schools and communities, DepEd agreed to conduct and finance a series of regional Training of Trainers (TOT) sessions on CyberSafety for all regions in the Philippines in 2019.
A further collaboration with DepEd and the Internet Mobile Marketing Association of the Philippines (IMMAP) saw the Dalir-Eskwela Videos launched in 2018. The videos are educational and interactive, about issues of online chatting, cyberbullying, online gaming and pornography. The videos are child-friendly and are helpful for adult facilitators in conducting sessions related to online safety, especially among younger children.
Another important area of collaboration between DepEd and Stairway is in the development of child protection policies at every single school in the country, as mandated by DepEd. The strategy is for the individual schools to develop their own policies, involving students, parents and faculties in the process. In 2015, Stairway facilitated "Writeshops" on crafting school-based child protection policies for DepEd curriculum writers, and sessions are continuing with Break the Silence Network members on protection policy localization, along with their local school partners.
Protection of Deaf children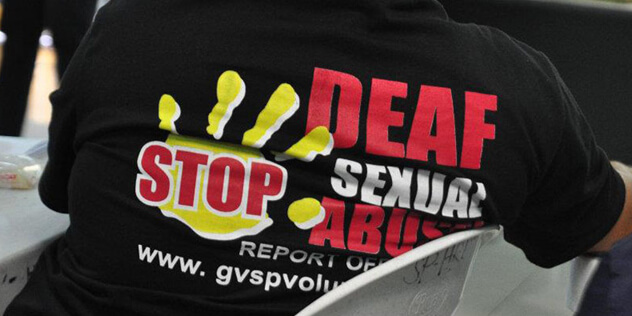 Deaf children are particularly vulnerable to sexual abuse as compared to their hearing counterparts. One of the largest barriers in raising awareness on child sexual abuse prevention for this sector is the lack of access to information. To address this issue, Stairway has collaborated with NGOs working with the Deaf community. Currently we are working with Support and Empower Abused Deaf Children (SEADC) based in Metro Manila and the Philippine Deaf Accessibility Services (PADS) based in Cebu, both of which are now members of the Break the Silence network. Capacitating these organizations working with the Deaf community, SEADC and PADS have now reached out to hundreds of Deaf children and have handled numerous cases of sexual abuse of Deaf children. The main tool in their child sexual abuse prevention advocacy is the animation trilogy produced by Stairway. All 3 animations have now been converted into sign language versions.