Last July 18-19, 2022, Stairway held a two-day session with adolescents from the community and the Stairway kids. The two-day session aimed to help the youth on their journey to adolescence by discussing issues that matter to them, such as adolescent pregnancy, bullying, relationship problems, STI/HIV, gender-based violence, and others. We discussed sensitive issues like the different pubertal changes they face, supported with appropriate knowledge and skills that can help them make informed decisions. The two-day session also showcased the facilitation and leadership skills of our peer facilitators who led the groups. 
Unfiltered Experiences
Young people tend to shy away from talking about sensitive issues, so we used creative learning methodologies, like games, dynamic group activities, role-playing, and even chat shows to stimulate healthy discussions among participants. Once warmed up and confident, everyone started to share their thoughts and feelings about growing up.
They shared their ups and downs during puberty (from pimples to responsibilities), what they liked and disliked about their physical selves, and how it affected their body image. They talked about their growing awareness of intimate relationships, sexuality, and the future. Through these conversations, we got a glimpse of their current protective behavior. 
Red Flags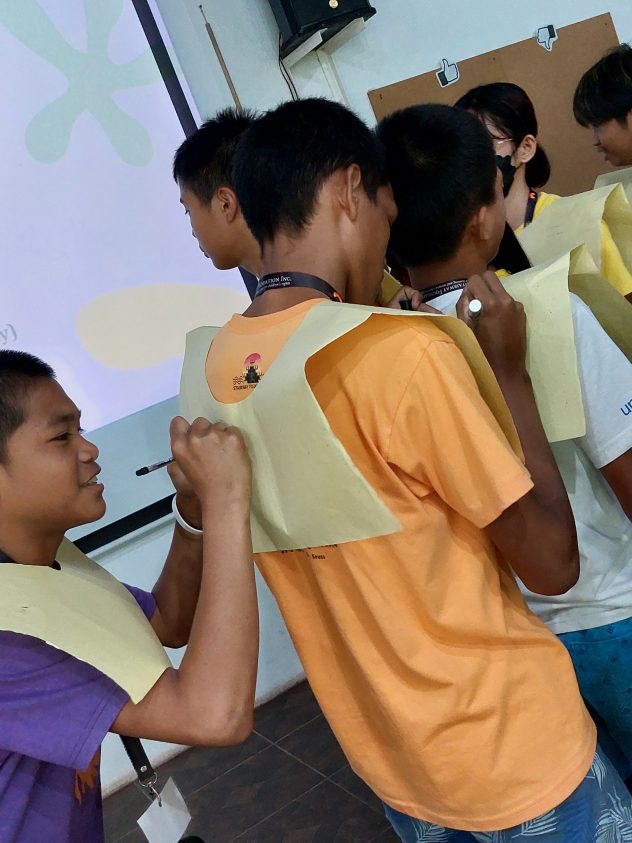 As discussions deepened, we detected red flags along the way. Some children bully others due to their looks, gender identity, and sexual orientation. Some lowered their guard and blurred the concept of consent when touching is done by romantic partners, some gave in to peer pressure, and some normalized watching pornographic materials simply because "everybody is doing it."
To learn to respect diversity and diverse sexualities, the youth heightened their awareness and understanding of self and others through affirmations and role-playing. In the poncho activity, they wrote the positive physical and internal qualities of each other. Lively discussions ensued about the concept of "consent" and the importance of body autonomy by using the coffee analogy.
After watching Dude, That's Not Cool, Stairway's animation about pornography addiction, we discussed the adverse effects of pornography on the brain and how it affects one's attitude and behavior, underlining the fact that consuming sexually explicit content is illegal and that wrong is wrong even if everyone is doing it!
Being a Positive Peer Support

"Birds of the same feather flock together;" is especially true for children when they reach adolescence. Adolescents identify with peers who can make or break a child/teen. They tend to spend more time with their peers with less adult supervision. Thus the role of positive peer support is highly significant at this stage of a child's mental and physical development. We need good friends and a positive support system to break the cycle of problematic behavior among children and adolescents. Through role-playing and case study scenarios, we emphasized the importance of being a positive influencer who can provide informed and healthy support.
Personal Futures
After tackling self-acceptance, protective behaviors, and peer support, we also discussed their futures and how to fulfill their plans. Aware of the soaring cost of living, most participants shared that they can only parent 1 – 3 children. However, in reality, most sexually active adolescents lack the knowledge and resources to make informed decisions about their reproduction which usually results in adolescent pregnancies. 
We explained to the children the importance of understanding and having access to family planning services that can empower them to make healthy choices in life. Discussing the different family planning methods in a creative, fun, and adolescent-friendly way, we held a family planning chat show cum pageant where the children explained each family planning method and its respective advantages. The participants appreciated the fun and creative activities. By the end of the 2-day session, they felt empowered and equipped to handle the challenging journey through adolescence.
We wrapped up the 2-day session by watching the talented Stairway kids perform the Lorax play, which helped to remind their peers that protecting the environment is also a primary responsibility of adolescents.