Thirteen years ago, we visited Stairway for the first time. At the time, we rented a small place in Calapan where we didn't feel at home. Lars and Monica told us we were most welcome to stay at Stairway for the remainder of our time in Mindoro, which we did. We loved the people working and living here, the overall vision of Stairway, and its ambition. We hope Lars and Monica don't regret inviting us as we actually never really left the place (or, so, it feels for us).
Since 2010 we have come back four times. Not only to relax and enjoy the hospitality but also to contribute. Folkert has worked on stage to set up a new sound- and light set. In doing so, Stairway went from an old-fashioned, high-power theatre light set to a modern LED light system. Grafisch Lyceum Rotterdam, a school for theatre techniques, donated audio equipment. To install this, we visited with a group of colleagues and friends.
Back again…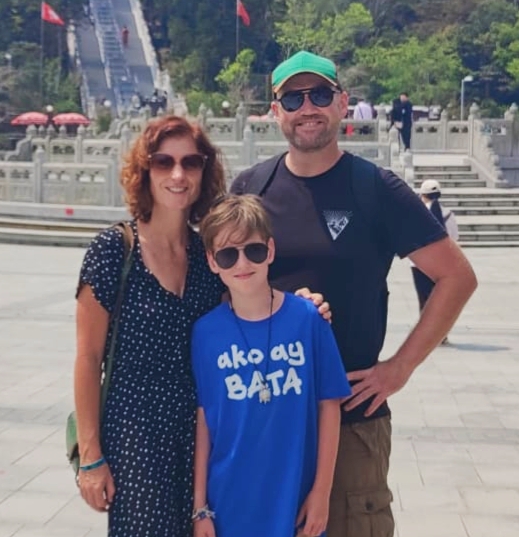 We are back again, and this time not just for a few days. Folkert, our son Twan (11), and I traveled during our sabbatical and stayed for several months at Stairway. How to describe this time? It was amazing in so many ways! We watched Twan making new friends and learning new games to play. The Stairway kids were so nice and welcoming to him that he felt at home immediately. Together they played guitar, and Twan introduced the kids to his favorite songs. During the first weeks, we heard "Believer" from "Imagine Dragons" being played on guitars almost non-stop. This song will forever remind me of sitting surrounded by kids and guitars in the dining area.
And we were lucky enough to see The Lorax performance finally! So far, we have always just missed the performance. We had to wait for 12 years, but that was worth it. The story, the actors, the costumes, and the props, we loved it!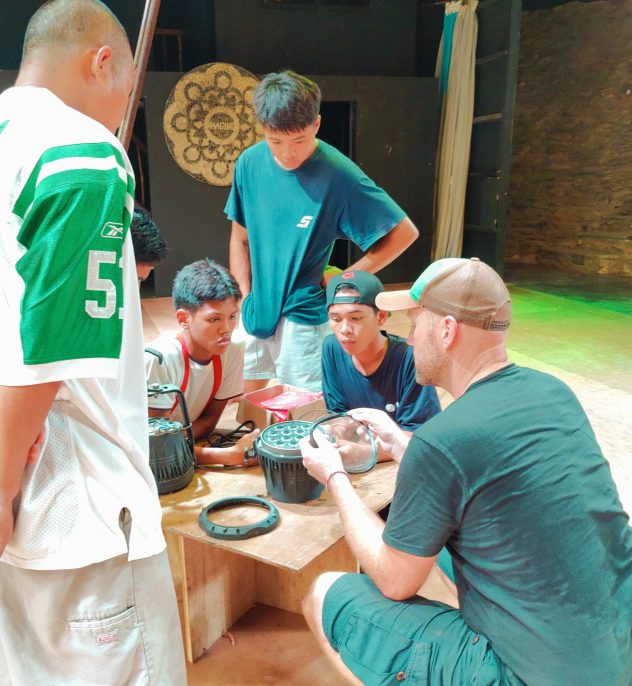 Training and sports
During this visit, Folkert worked on stage to do repairs and maintenance. He trained some of the older kids to do this themselves in the future. The conference room now has new audio equipment, and the music room is being sorted out. The guitars had a maintenance check-up.
In the meantime, Julia (the Swedish volunteer) and I went to the Baclayan Mangyan Primary School to do sports with the students and Twan. The students were particularly shy toward him. At first, they hesitated to be near him and did not want to touch him while playing tag. This suited Twan just fine because he won the game. But quite soon, the shyness was overcome. We started with 15 quiet students and ended with 35 children laughing and screaming. I am unsure if the rules of soccer or dodgeball were followed correctly, but we had a lot of fun.
Our friend Seger came to visit and, as a good guitar player, did some teaching at Stairway. The kids named popular Tagalog songs, which Seger (obviously) had to look up. After listening to it, he showed the kids how to play the song on the guitar.
It was nice to hear some new songs for a change!
Dear Stairway, thank you so much for having us (again)! We hope to see you all again in the future!
Folkert, Twan and Tessa