Onto the last 30 minutes of my whole day walk, hour 11.
The sore in my thigh blisters are getting worse. The more stops I take to rest, the more I feel it hurting, so I halt briefly and keep walking.
I stopped by White Beach to get ice cream pasalubong for the kids. When I arrived home, my daughter Giya laughed, seeing me walking like a duck to avoid the friction between my thighs. Though I sweated a lot the whole day, I was too exhausted to take a shower and decided to do this in the morning. My face was sun-kissed red. I felt a lot of solar energy stored on my face and skin over the next two days.
It is not my first time walking long distances. More than a decade ago, I had walked longer and more challenging hikes across mountains with indigenous Aetas, Dumagats, and Igorots in our rural missions when we crossed inter-provincial borders while working with previous NGOs in Luzon. But this walk is different. I must walk alone —with minimum interaction with people— unplugged for 12 hours!
I strolled, hiked, and meandered, taking a rest not a few times. With nobody but my stream of thoughts as my only companion. I broke my intermittent fast at 10 am with a few biscuits I brought inside my dry bag. I fueled myself throughout the walk with bananas, mixed nuts, a sandwich I bought along the way, and drank lots of water. All with my phone on airplane mode, only using it to check on the 12-Hour Walk App to see the route and my progress and occasionally to take photos and short videos of sights that interested me.
And yes, I made it home walking the whole day, starting at 6:30 in the morning until 6:30 in the evening. From my front door towards the west to Abra De Ilog, then back to the east along the shores of Aninuan to White Beach. Then along the main road of White Beach to Minolo, Balatero, and finally to Muelle. Then, retracing that path from Muelle back to my house in Aninuan. The app showed that I covered 19.44 miles or about 31.3 kilometers in total for the 12 hours.
I first heard of the idea of a 12-hour walk while listening to one of my favorite podcasts, the "Next Big Idea" podcast interview with Collin O'Brady —the author of the book "12-hour Walk" —- an adventurer, endurance athlete, entrepreneur, and New York Times, bestselling author. Right after listening to the podcast, I searched "12 Hour Walk" and learned that Collin is calling for a worldwide simultaneous 12-hour walk on September 10 —for people to walk together but alone and unplugged. Collin's long-term goal is for 10 million people to join the 12-Hour-Walk campaign.
I did not wait for September 10. I learned that it was a holiday Monday on August 29, National Heroes day. So, I immediately blocked my calendar, downloaded the app, and signed up for their newsletter. Below are some are my discoveries, thoughts, and insights.
Hour 3, almost 6 miles, walked somewhere in Puerto Galera-Abra De Ilog road.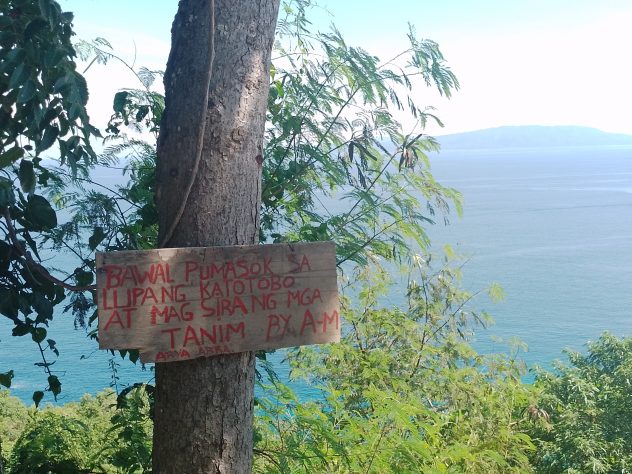 Seeing hand-written red signs posted on old trees along the concrete road connecting Puerto Galera to Abra De Ilog got me thinking about the social realities behind the pristine beauty of the beaches and the forest that this new road collaterally offers.
The message on the scarp of wood is like a faint cry coming deep from the belly of the forest. Of Iraya Mangyan people asserting their age-old ancestral rights out of ambivalence and fear of these "development" projects.
For most of the first three hours of my walk, I randomly contemplated my family, old friends, and other relationships. I felt grateful for their presence and love and how we survived despite the pandemic and other challenges. Memories from my past as a community organizer and educator returned because of the familiar sights I trod.
Part of myself still held on to some past baggage. However, upon reflection and rethinking, I resolved to let go of some baggage, especially those that lingered in my mind. I still have to see in the coming days if this resolution worked. But I guess it always starts with a decision. This walk helped me in processing this decision.
Although there's still thick forest around, the road going further to Abra de Ilog seemed bare and directly exposed to the sun as midday approached. I stopped by a beach that looks similar to Zobel in Aninuan. But this one only has a few huts and a few people around. I thought it would be a good idea to bring my family here one day for a hike, take some food and drinks and maybe go home in the afternoon when the sun sets. Later, I learned from Kuya Eric, our Mangyan boat crew from Bignayan, this place is called Yabanan. In Iraya, it means meeting place.
I decided to head back to Aninuan and again noticed the excavator truck with its driver and traffic assistant digging the sides of the mountain slope to widen the road, seemingly oblivious that it was a non-working holiday. There was also a small team of workers clearing another side of the road. When will they finish the road? When will it fully open? Many years have passed since this project started in 2014.
I took my second long rest under the shade of trees because it got hotter as the hours went by. While I guzzled down water, I was preoccupied with handling this scorching heat and hoped the day breeze wouldn't cease.
Walking along the shores of Talipanan to White Beach, I saw that beach space was getting narrower, with the sea inching its way nearer and nearer to the resorts. The tide was high then, but we say that a big part of the equation is global warming that ceaselessly pushed sea levels higher.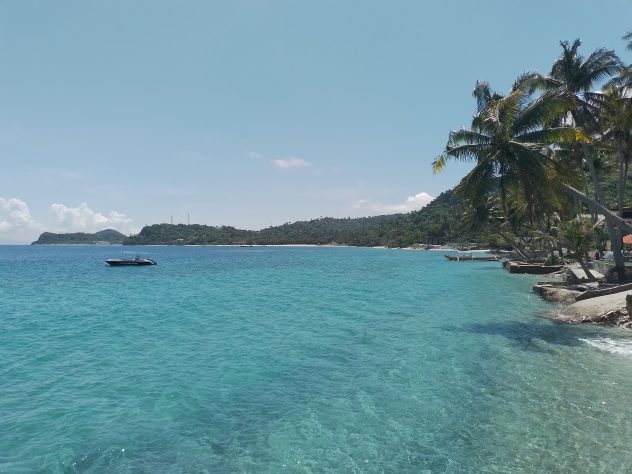 There's no guarantee that I won't talk to anyone. Refilling my water tumbler with cold water at Tamaraw Resort and spoke to people I knew, but I limited the conversation. I bought food in the stores and met people who knew me, especially when I took the main road. I saw Ate Baloy and her husband operating their stall in White Beach. The Stairway kids greeted me on their way back from Baclayan farm. I met Stairway scholars and parents who wondered why I was walking under the midday sun. Tricycle drivers and acquaintances offered me rides, and I thanked them but kindly refused. In a way, they were all unavoidable distractions to this solitary walk.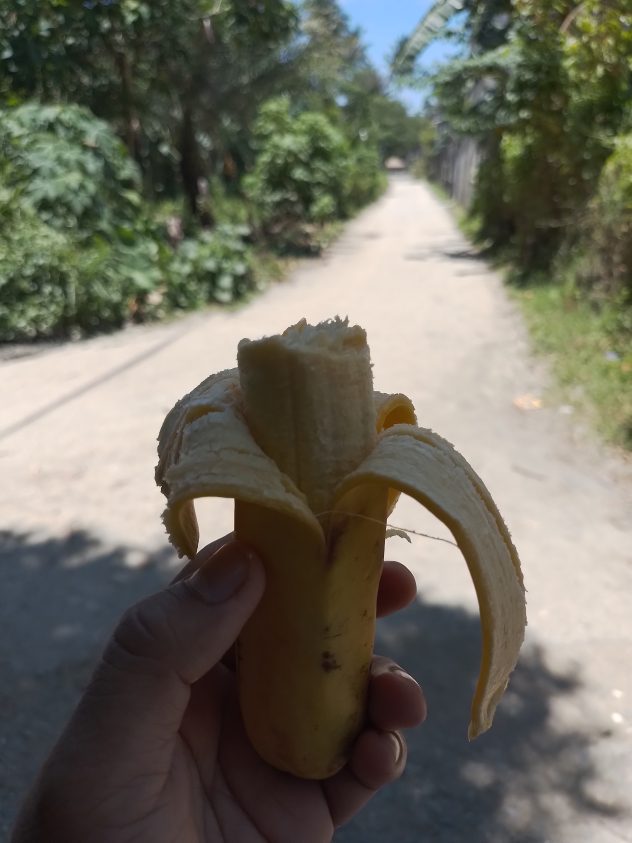 I had to take occasional stops and intermittent respite under the refuge of mini forests dotting the road from White Beach to Muelle. Is it summer again? It is like the typical heat during the Holy Week.
I found a small trail leading to this spot and, to my surprise, I saw heaps of garbage secretly thrown in the area. Plastics and other garbage along the road covered the canals, bushes, and riverbanks.
Hour 9, almost 14 miles, walked somewhere in Sto Nino, inside the area of Fishermen's Cove.
The long walk under the scorching sun on the barren and treeless main road of Balatero took a toll on me. I wanted to make frequent stops, but no shade existed. One-story residences, stores, and road construction fully occupied most of the streets. I felt the blisters forming between my thighs as I took a long rest along the beach of Fishermen's cove, which was the best stopover.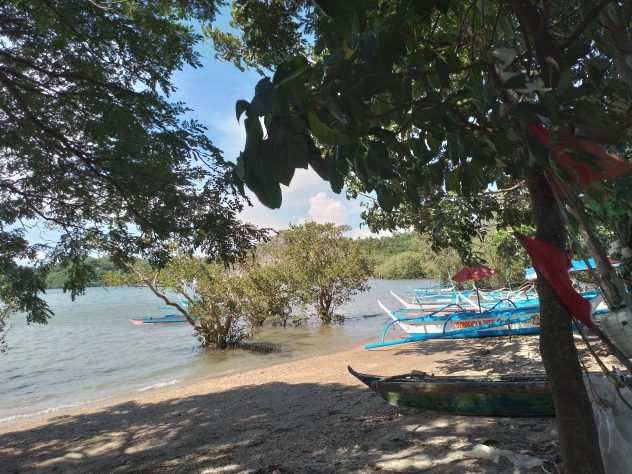 Hour 10, over 15 miles walked, at Muelle Mangrove Walkway
It was already near 4 pm, and I decided this would be my last stop before finally going back home following the same route. I didn't know anyone here where I could refill my water tumbler, so I gave in and bought water in plastic bottles from the stores.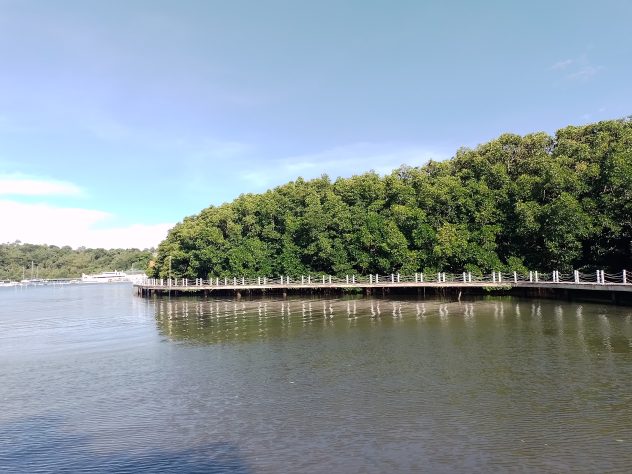 As I saw more people in Poblacion, I saw myself in them. It seemed that their lives almost entirely depended on their phones – amusement, relationships, business, everything. If they are not talking to anyone or attending to any task, most of them stick to their phones with Facebook, watching videos, or just messaging someone. After being unplugged for over ten hours, this was a stark observation to me.
I saw some kids doing their TikTok videos at the Mangrove Walkway in Muelle. But what caught my attention the most was the reek, the noise, and the sight of hundreds or maybe more than a thousand flying foxes hanging upside down on the mangrove trees! It's not the entire year that we see them here. But I guessed this indicates they feel safe to hang out and perhaps will transfer to another place in the following weeks.
I purposely spent time at the walkway to kill the remaining minutes before walking back home while the sun was setting. I dreaded walking for another two hours on the same road with many people in their vehicles. They'd be wondering why I am walking.
I forgot to mention, earlier in the morning, our dog Pate saw me somewhere at Sunset resort. He seemed happy to see me and followed me throughout the entire walk. I was not glad to see him follow me in this supposedly solitary activity. I worried that one of the vehicles might hit him. Or he might get very thirsty and hungry. I tried scaring him to run back home, but he stayed. So he was with me from Aninuan to Muelle.
I had thought of cheating this 12-hour walk and just taking a ride back home. But I could not leave my dog here in Poblacion, and I was unsure if he could figure out how to get home without other dogs attacking him. He unwittingly became my accountability buddy, so I had to complete this 12-hour walk. I could not cheat.
Hour 12, back in Aninuan.
Mission accomplished.
Coming back home was the best feeling of this 12-hour emotional rollercoaster walk. The kids had finished painting the walls inside our house as their weekend project. Dinner was ready, and there was ice cream.
Thousands of thought bubbles floated, mental blocks crumbled, and limiting beliefs were ready to overcome. My body was in pain, but my mind and spirit were refreshed.
I plan to do this 12-hour walk once a quarter or at least twice a year. I hope to do a version of this in Victoria, my wife's town. Or maybe in an urban setting in Manila or Pampanga.
That day, August 29, was National Heroes Day. I have always wanted to give myself to others for most of my life: to sacrifice for them. To serve others. To be a hero for others. That day, I thought, I decided to be a hero for myself.
In order to continue to be a hero for them.