Rap music is never far from our ears here in Stairway, where children are always beating out some rap tunes by local Filipino rappers like Gloc9, or by beating out some homegrown rap made by Kuya Johnny, one of Stairway's housefathers. So it was no surprise when Marjon, a former resident of Stairway, showed up after 11 years, that he would also be rapping–but as a career!
Listening to the songs he sang that night provided everyone with insight to the raw and hard life Marjon had lived out on the streets on Manila. The spotlight focused on him: his vocals husky, brow covered in sweat and the guitar he played singing hand in hand with the beat box rhythm.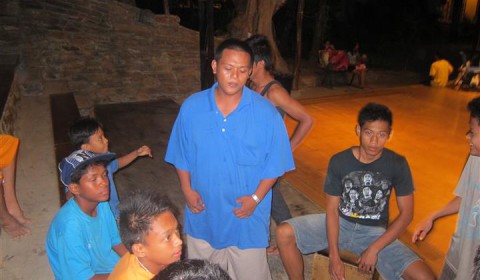 Marjon came to Stairway back in 2000, the same batch as Johnnie, the current housefather of the children and member of the theater piece "Cracked Mirrors".  Both of these men started rapping in their time here as clients and have never stopped since. "The first thing we did when we saw each other after 12 years apart was to write a song together about long-lost friendship" said Marjon with a smile. "It was really great. Brought back a lot of great memories."
When I asked Marjon why he started rapping he said that it was the way to express yourself on the streets, a way to let out the bad feelings of pain, anger, hunger, and sorrow. "Had a bad day? Rap about it and it all goes away." Marjon's songs have been gaining popularity in the Philippines, especially in Manila amongst the street children. They can relate to the stories he sings of and the hardships he rhymes about. When walking around in the Philippine capital you can hear a few bars from his raps hummed by street vendors. Little kids belt out his lines and construction workers crowd around small portable radios to listen in.
Marjon currently lives in Tondo, Manila with his wife and three children. He does not intend to stop writing music anytime soon.
Watch Marjon's video, Bakal.
Contributed by Zach Jorgensen