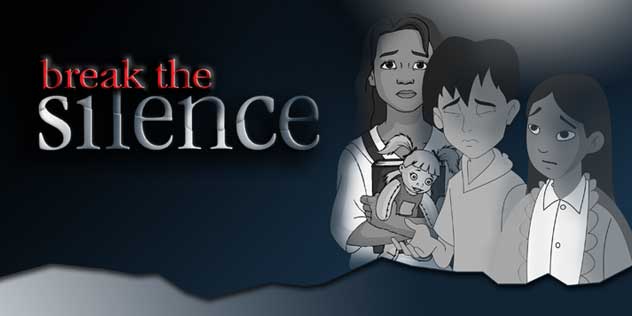 Over the past decade, Stairway has produced three animation films for the promotion of children's rights and the prevention of child sexual abuse. The 3 films, addressing different aspects of child sexual abuse and exploitation, have earned international acclaim for their unique qualities to communicate an unspeakable issue to a wide audience. They confront incest, pedophilia, sex trafficking of children and children abused in pornography. These 3 films make up the pillar in Stairway's training programs. Used in trainings and capacity-building activities they provide a concrete and realistic picture of a child sexually abuse.
Read More...
The animations, when distributed or sold to partners, come with their own toolkits so that even those who have not attended Stairway's trainings would know how to discuss and process the films with the children. Included as well is a section on Handling Disclosures, to prepare for the possibility that a child in the audience would find the courage to break her/his silence about the abuse.
The value of the animations in the drive against child sexual abuse has been recognized internationally. Both Daughter and A Good Boy have won international awards. The films have been widely distributed and translated in several languages, including Spanish, French, Khmer, Vietnamese, Thai, Malay Bahasa and Nepalese. They are also available in both Filipino and Cebuano.
The three animations were adapted from short stories found in the collection called Black Angels, Street Children Realities by Monica D. Ray.  Used extensively in Stairway's Personal Safety workshops, the films have proven an innovative and invaluable tool for children and young people to open up and to discuss the issue of sexual abuse. As young people watch and listen, discuss and tell their stories, they learn to connect to themselves, to each other, and to the world of ideas, to cultivate the imagination, to heighten social awareness by exploring the conflicts depicted with simplicity and wisdom.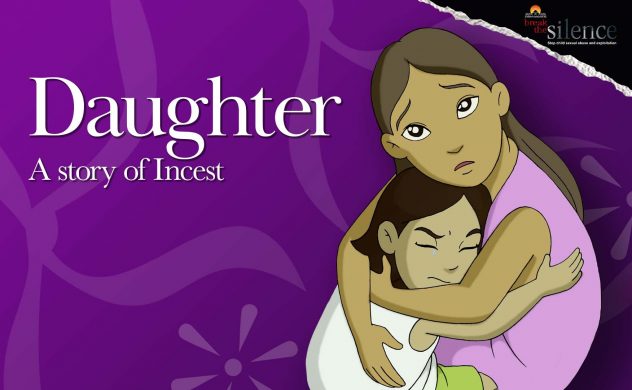 How many times does a child have to tell an adult about being sexually abused before he or she is believed? Daughter is a heartfelt story about a young girl who is left with the responsibility of taking care of her father and her siblings while her mother works overseas. The role becomes distorted when her father starts to have an incestuous relationship with her. She attempts to tell various adults about the abuse, but no one believes her.
Read More...
"Daughter" is a harsh and, unfortunately, a very authentic story about a 12 year old girl who has been a victim of incest. Upon its release, the film won 2 prestigious awards at the Annecy International Animation Film Festival in France; one for best Educational Film, and another Special Award from UNICEF. This international recognition of not only the film, but also of its justification and relevance, helped propel Stairway's campaign against child sexual abuse into an entirely new gear. Ever since, "Daughter" has proven great qualities as a vehicle for advocacy and breaking the silence around this most delicate and insidious form of child abuse, sealed in layers of taboo in almost any culture.
"Daughter" is used consistently in all Stairway workshops and training sessions on Child Sexual Abuse Prevention, and it continues to receive acclaim and appreciation wherever and whenever it is shown. It encourages disclosures, because it makes any victim of child sexual abuse understand that they do not carry any responsibility for what happened to them.
Written by Monica D. Ray
Directed by Monica D. Ray, Paw Ravn and Oscar Perez
Storyboard by Paw Ravn
Animation by Philippine Animation Studios
Translations: English, Filipino, Cebuano, Spanish, Khmer, Thai, Malay Bahasa, Vietnamese, Nepalese and French. Also available with American and Filipino sign language.
Running Time: 12 mins.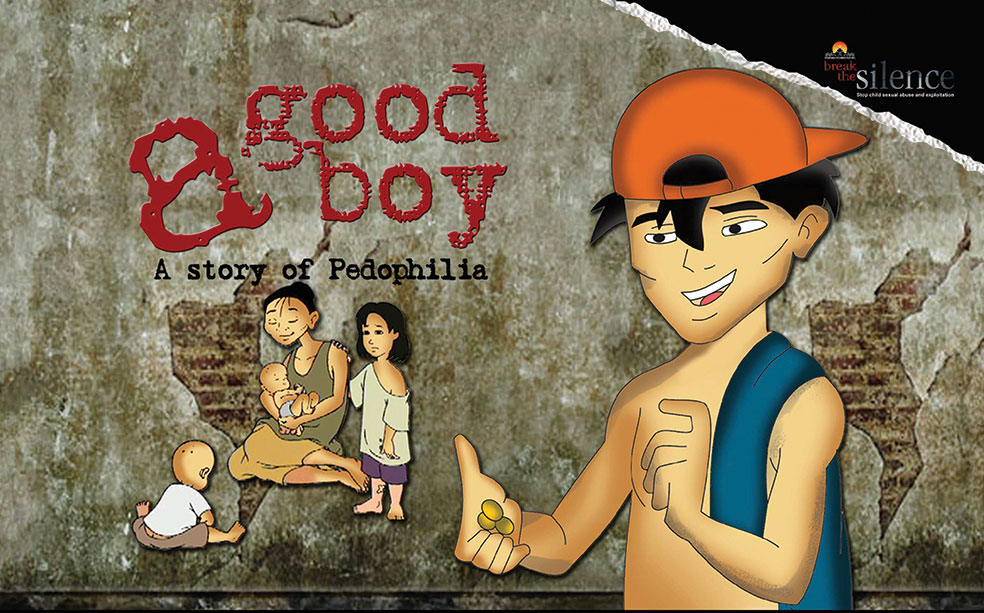 A Good Boy is a powerful depiction of the crime of pedophilia. It is a tale about how a young street kid named Jason is entrapped by Bob, a pedophile.  Bob befriends Jason and his family with money and gifts.  He gains their trust and invites Jason on a little "business trip" where he abuses him. Out of deep obligation to provide for his family, Jason keeps the abuse a secret until one day, Raffy, a street educator, helps him.
Read More...
The ending of the original story is quite different from the animated version, which offers resolution and hope. In the original story the boy Jason, who is the victim of Bob (pedophile), did not escape the web of the perpetrator. Instead, he was made to render his services as a sex object for all of Bob's friends, who in return provided financial assistance to Jason's family. While the original ending is still closer to the realities in the Philippines and most other places in the world, the alteration to make a more positive ending of the animated version was a necessary move to offer hope and an opportunity for change and justice for child victims of sexual abuse and exploitation.
While the specific story is about a street child, its portrayal of a pedophile's manipulation, grooming and abuse of a child applies a lot broader than to a street situation. "A Good Boy" has been particularly valuable in helping to create awareness and educate on the fact that not only girls fall prey to sexual offenders. Very far from!
Written and directed by Monica D. Ray
Produced by Stairway Foundation
Animation by Dog n' Bon
Post Production by Wild Fire and Katrina Nyholm
Translations by International School Manila and Euro-Campus
Languages: English, Filipino, Cebuano, Spanish, Khmer, Thai, Malay Bahasa, Vietnamese, Nepalese and French. Also available with American and Filipino sign language
Running time: 18 mins.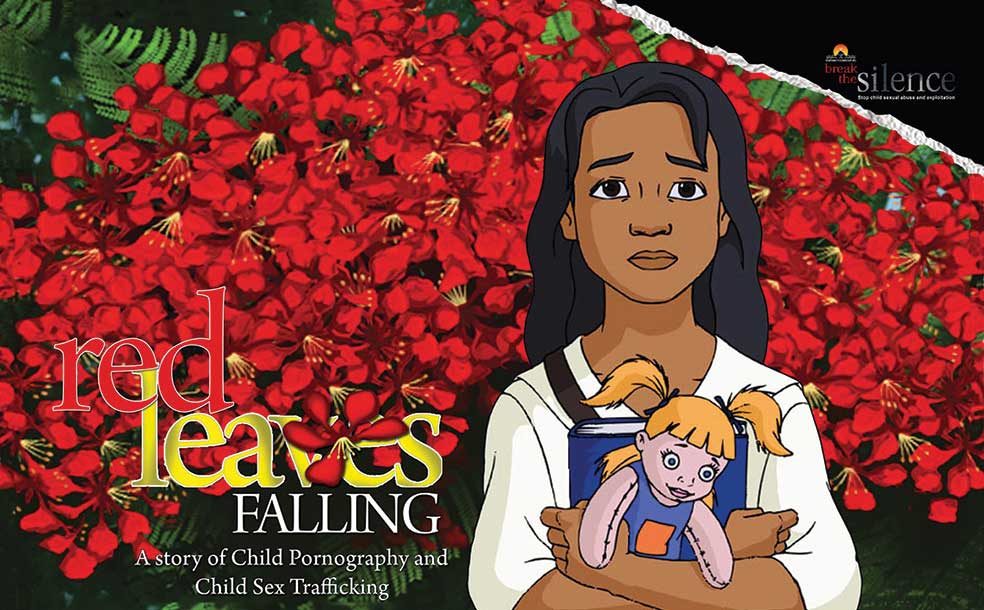 Red Leaves Falling is Stairway's latest animation film.  It is a story of child sex trafficking and online pornography.  Under the stress of poverty and a dying child, a mother agrees to send her daughters off to work in the city as house help–but the girls end up as sex slaves in a brothel.
Read More...
The animation illustrates how the growing use of smart devices makes protection of our children more complicated, and even more urgent to attend to. Every click on a site holding an image of an abused child is a crime, which fuels the demand for recruiting more children into a sick industry of pornography.
As the 2 first animations, "Red Leaves" is full of pictures and metaphors in order to communicate a reality so gruesome and unbelievable that any healthy mind will not be able to conceive of the details of this heinous crime committed against the most vulnerable of children. "Red Leaves" is not intended for children audiences as part of Personal Safety training. This animation is directed towards more mature audiences that are in a position to help create a safe environment for children, so stories like what transpires in "Red Leaves" will no longer stain our idea of humanity.
This animation tells an all too common story. Parents are often unaware that they are 'selling' their children into sex slavery. Sexual abuse and exploitation of children is on the rise. Perpetrators take advantage of sophisticated means of communication and networking, making it more complicated to intervene in their criminal activities.
Red Leaves Falling is intended to help break the silence and to raise public awareness that child sex trafficking and child pornography is a prevalent issue.
Written and directed by Monica D. Ray
Produced by Stairway Foundation
Animation by Neko Animation Studio Manila
Post Production by Wild Fire and Hit Productions
Languages: Cebuano, English, Filipino, Khmer, Malay Bahasa, Vietnamese, Nepalese, Thai, Burmese, and Sinhalese. Also available with American and Filipino sign language
Running time: 23 mins